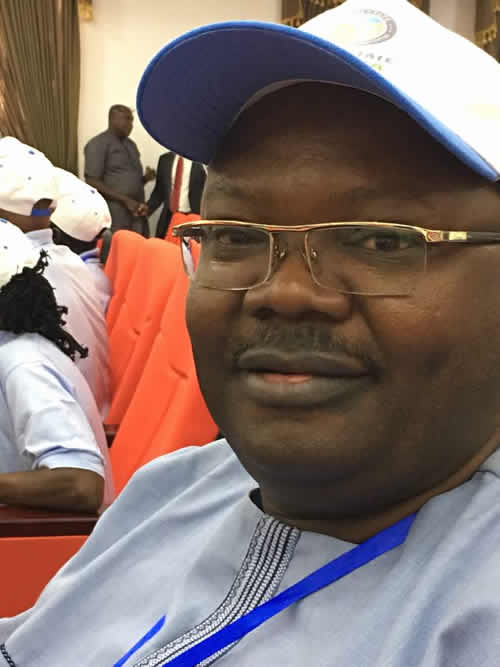 Sunday (Sunnie) Enessi Ododo is a Professor of Performance Aesthetics and Theatre Technology in the Department of Visual and Performing Arts, University of Maiduguri, Maiduguri, Nigeria. His scholarly work has gained considerable attention, especially his 'Facekuerade theory', which derives from the maskless transformational practices of traditional Ebira masquerades (eku).
He has also edited reputable journals like, Alore: Ilorin Journal of the Humanities, The Performer: Ilorin Journal of the Performing Arts, Sino-US English Teaching Journal and US-China Foreign Language Journal. He is also a Consultant to World Scenography Research Project. A good number of his essays have been published in journals in the USA, the UK, Japan, India, Netherlands, Germany and Nigeria, etc. He also co-edited Larger than his Frame: Critical Studies and Reflections on Olu Obafemi (2000) and Technical Theatre Practice in Nigeria: Trends and Issues (2006), with Professor Duro Oni.
There are other edited works to his credit. He is on the editorial board of The Perfformio, a University of Wales online journal for the performing arts (http://perfformio.org/default.aspx); and the Editorial Board of David Publishing Company, Libertyville, Illinois, USA. He is the pioneer Editor of Scene Dock: Journal of Theatre Design and Technology, and currently also serves on the board of four other journals in Nigeria.
Ododo remains a valued and respected icon in literary and theatre circles. His play, Hard Choice, further brought him to literary limelight as a gifted playwright as he won the prestigious ANA Drama Prize in 2012. Apart from being a theatre scholar, screenwriter, actor, poet and technical theatre practitioner in his highly fecund career of about three decades, he is reputed to be the exponent of the Facekuerade theory in African Theatre Studies. Beyond these, Ododo is a distinguished and versatile creative artist, who has made modest contributions to the growth of literature and creative writing in Nigeria through his activities in the Association of Nigerian Authors (ANA), where he has served as Chief Judge of literary prizes and national Vice President. He also served as one of the Vice Presidents of the Society of Nigeria Theatre Artists (SONTA), before becoming its 8th President; and he made innovative and outstanding contributions to the Society in two terms in office, which ended on 2nd November, 2017.