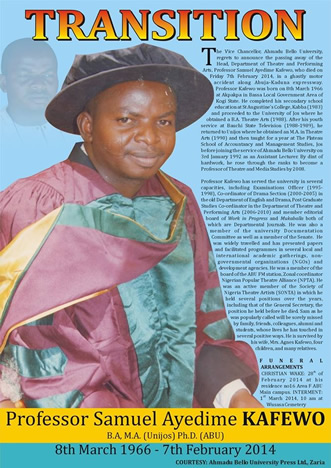 Samuel Ayedime Kafewo was a Professor of Theatre & Media Studies with the Department of Theatre and Performing Arts, Ahmadu Bello University, Zaria, Nigeria. He joined the services of the university in 1992 and served as head of Drama, Postgraduate Coordinator, Member University Senate & Congregation, member University Documentation Committee where he produced several documentaries that have been aired on national television, being a faculty representative on several committees and currently the head, Department of Theatre and Performing Arts.
Kafewo taught and examined undergraduate and postgraduate courses for over two decades and attended several national and international conferences and workshops.
He published extensively in local and international journals among which are the Nigerian Theatre Journal, New Theatre Quarterly, and Journal of Reproductive Health Matters, Network 2000 USA, Canadian Journal of Comparative Literature, SAFARA based in the University Of Gason Berger Senegal. His areas of research interest include among others Popular/Theatre for Development, representation of women in the media-Film and television, Theatre history and dramatic theory and criticism.
He served as member, college of Screeners for the Africa Movie Academy Awards (AMA) for years. He also attended film festivals at home and abroad among which are FESPACO and Zuma.