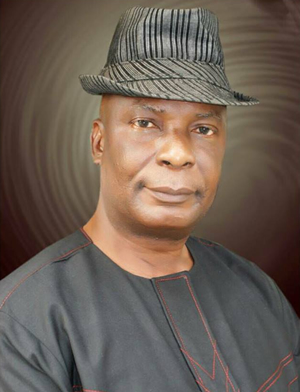 Barclays Foubiri Ayakoroma (BFA) attended L.A. School and St. Enda's College (now Agbarho Grammar School), all in Agbarho, Delta State. He read Theatre Arts at the University of Calabar, Nigeria, graduating with a second class honours (upper) division. This was followed with a Master's degree from the University of Ibadan (in Theatre Arts), and a Doctorate degree from the University of Port Harcourt (in Film Studies).
He had a stint at Prof. J. P. Clark-Bekederemo's PEC Repertory Theatre, Lagos in 1985 working with Rivers State Television (RSTV Channel 22 UHF), Port Harcourt (1986-1992), where he held various positions, such as, Operations Supervisor, Head of Programmes, and Head of News & Current Affairs.
BFA was a Lecturer in the Department of Theatre Arts, University of Port Harcourt, was a Consultant with Living Earth Nigeria Foundation (LENF), where he pioneered the Bayelsa Community Theatre Programme. His collaboration with Arikpo Arikpo produced three collections of plays. He also collaborated with Arikpo Arikpo and Professor Emmanuel Emasealu of the Department of Theatre Arts, University of Port Harcourt, to handle the MPP3 Enlightenment Campaign through drama, under the Consultancy of LENF. The play, "Once Upon a Letter," which the trio scripted has been performed in many communities in Bayelsa, Delta and Rivers States.
An author of many plays that are studied widely in many higher institutions in Nigeria and over eighty published articles and books to his credit, BFA is the author of the ground-breaking Trends in Nollywood: A Study of Selected Genres. Two of his plays, A Matter of Honour and Dance on his Grave are recommended texts in Bayelsa State Junior Secondary School syllabus; while The Rejected Ones, one of his plays in A Chance to Survive & other plays, took the 2nd Prize in the 2003 edition of the ANA organised NDDC/J.P. Clark Prize for Drama.
BFA was appointed the Executive Director of the Bayelsa State Council for Arts & Culture in August 2000, and contributed immensely to the development of the State Arts Council as its chief executive. He was the leader of the Bayelsa State Delegation when the Egbelegbele Cultural Troupe of Amassoma participated in the 2002 edition of the International Children's Festival of Culture & Art in Tianjin, China. He also led the Bayelsa State Troupe in performance tours to London, Paris, and Algiers; and was in cultural delegations to USA, Brazil, South Africa, and Kenya, among other countries.
Appointed the Executive Secretary/CEO of the National Institute for Cultural Orientation (NICO), Abuja, on 3rd November, 2009, BFA completed his tenure on 28th November, 2017, after having brought Institute to limelight and positively repositioning it for effective job performance. He led the Nigerian Delegation to the 11th Session of the Intergovernmental Committee for the Safeguarding of the Intangible Cultural Heritage of Humanity in Addis Ababa, Ethiopia, from 28th November to 2nd December, 2016, where the Argungu International Fishing and Cultural Festival was successfully inscribed on the Representative List of the UNESCO Intangible Cultural Heritage (ICH) in Need of Urgent Safeguarding.
A recipient of the National Youth Service Corps (NYSC), old Anambra State Merit Award (1983), BFA is also the Society of Nigeria Theatre Artists (SONTA) Life Time Achievement Award (2011) and the SONTA Award of Artistic Excellence (2013), among several awards. He is a Fellow of the Society of Nigeria Theatre Artists (SONTA), National Association of Nigerian Theatre Arts Practitioners (NANTAP), and the Institute of Corporate Administrators of Nigeria (ICA). He is also Member of the Board of Trustees, University of Calabar Alumni Association (UCAA) and the University of Calabar Theatre Arts Alumni Association (UCTAAA); as well as Member of African Theatre Association (AfTA), Nigerian Institute of Public Relations (NIPR), Association of Nigerian Authors (ANA), Nigerian Institute of Management (NIM), and Nollywood's Directors Guild of Nigeria (DGN), among others.
Currently an Associate Professor, Department of Theatre & Cultural Studies, Nasarawa State University, Keffi (NSUK), BFA is married to Letty, a broadcast administrator; and their marriage is blessed with children.