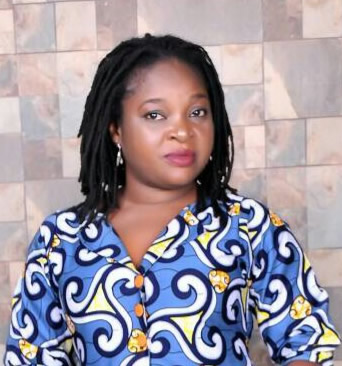 Tosin Tume, who currently teaches in the Department of Theatre and Media Arts, Federal University, Oye-Ekiti, Ekiti State, Nigeria, holds a B.A. and M.A. degrees in English and Theatre Arts from the University of Ilorin and University of Abuja, Nigeria, respectively. She is presently rounding off her doctoral research at the Department of Performing Arts, University of Ilorin, Nigeria, in which she propounds the Statochoreographic theory for NAFEST Danceturgy.
A Member of the Association of Dance Scholars and Practitioners of Nigeria (ADSPON), African Theatre Association (AfTA), Women Playwrights International (WPI), and African Women Playwrights Network (AWPN), Tume has served as the Events Manager of the Society of Nigeria Theatre Artists (SONTA), as well as the Financial Secretary of the Ekiti State Chapter of the Association of Nigerian Authors (ANA). She is a recipient of the SONTA-Theodora Tobrise Young Female Thesis Assistance Grant Award.
Tume is a playwright, director, choreographer, actor, dancer, singer, and a budding theatre scholar. With an experience spanning fifteen years, she has participated in several theatrical productions, festivals, carnivals, symposia, workshops and conferences within and beyond the shores of Nigeria.
She has to her credit several published and unpublished plays, and dance scripts. Her works include The Pact (2013), Tribal Marks (2014), Mojogbayi (2015), "Gimbiya", "The Future is Now", "Iyefemigha", "Arodan", "Roll Out the Drums", "Blood on My Hands", "Hello, Nowhere", and "Man Pikin". As the Drama Entry for the Nasarawa State NYSC Dance and Drama Troupe, her play, The Pact, won the 1st position at the NYSC Annual Cultural Festival in 2009.
Also, her play, "Sweet Poison", was among the selected scripts for the 2015 ASSITEJ SA New Writing for Young Audiences in Africa Programme, which was run in partnership with The Kennedy Centre's New Visions New Voices Project in Washington D.C., United States, and The Soweto Theatre in Guateng, South Africa. The play was performed at the ASSITEJ SA African Youth Theatre and Dance Festival held at the Artscape Theatre, Cape Town, South Africa, from 22nd – 27th June, 2015.
Tume's play, "Not That Woman", is currently in the process of being published by the Methuen Publishers for the School of Theatre, Performance and Cultural Policy Studies of the University of Warwick, UK, via the platform of African Women Playwrights Network (AWPN). The play has also been selected as the only Nigerian entry for staging at the Women Playwrights International Conference in Chile in 2018.