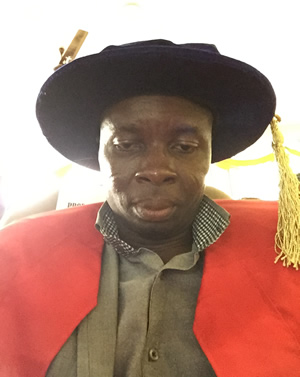 Alexander Chinwuba Asigbo is Professor of Theatre and Performance Studies, Head, Department of Theatre and Film Studies, Director, Centre for Arts, Culture and Humanities, Chairman, TETFUND Implementation Committee, is former Dean, Faculty of Arts, Nnamdi Azikiwe University, Awka, Nigeria.
He was born into the family of late Onyekwe Egwuatu Asigbo and Iyom Angelina Udegbune Onyekwe of Umuosodi Family in Oroma Etiti Anam in Anambra West Local Government Area of Anambra State on the 12th day of November, 1969. He had his primary education at Hope Rising Primary School, Oroma Etiti Anam, between 1975 and 1980. He attended Anam High School, Oroma Etiti Anam, between 1981 and 1986, before proceeding to the University of Port Harcourt, between 1989 and 1994, where he obtained a Bachelor of Arts Degree (Second Class Honours, Upper Division) in Theatre Arts with specialisation in playwriting.
He then proceeded to Nigeria's premiere University of Ibadan, for his Master of Arts degree in Theatre Arts, which he obtained that in 1997. He subsequently culminated his degrees with a PhD in Performance Studies also from the University of Ibadan.
A Post-Doctoral Fellow of the American Council of Learned Societies' (FACLS) African Humanities Program (AHP), as well as the Nigerian Institute of Corporate Administration (FCAI); Asigbo has served as External Examiner to different Universities in Nigeria, among which are Imo State University, Benue State University, University of Port Harcourt, University of Ibadan, University of Benin, University of Abuja, Niger Delta University, University of Ilorin, Delta State University, Kwara State University, University of Jos, etc.
Asigbo served as Dean, Faculty of Arts, Nnamdi Azikiwe University, Awka (October, 2012 to Oct 2014), when he was appointed, Director, Centre for Arts, Culture and Humanities. He was also the National Social Secretary, Society of Nigeria Theatre Artists (SONTA) (2001-2006); National Secretary, SONTA (2006-2011); Financial Secretary, SONTA (2011-2013).  He is also the National Public Relations Officer, Society of Non-Fiction Authors of Nigeria, (SONFAN). He is also a National Vice President of the International Theatre Institute (ITI), and was inducted into the SONTA Hall of Fame with a Life Time Achievement Award (HSONTA 2011).
He was the South-East Zonal Coordinator for Abuja Carnival from 2009 to 2011, as well as a Member of the Anambra State Central Planning Committee on Mmechi Aro Anambra (Anambra Home Coming Festival 2010). He is also the National Secretary of the Nigerian Sector of the International Association of Theatre Critics (IATC), as well as the 1st National Vice President, SONTA (2013-2017). He was elected 9th President of SONTA in November, 2017.
Back home to his umbilical cradle, Asigbo has also been the Secretary General of Oroma Etiti Development Union (2008-2017); Chairman, Anam Peoples' Assembly, Awka Branch (2009-2014). He is an Adjunct Professor to Imo State University, Owerri as well as Anambra State University, Igbariam Campus. He has also been on the NUC Panel of Experts for the Accreditation of Theatre Arts Programmes in different Nigerian Universities.
He is a playwright, director, poet, composer, singer, critic, actor trainer, Culture Consultant, fighter and community leader. His published plays include, Fate of an Orphan & Obidike: The Last Warrior (2000); Once Upon a School (2001); War of the Tin Gods (2002/2008), The Reign of Pascal Amusu (2008), among others. His numerous publications which include over seventy-five journal articles and book chapters have appeared in both national and international platforms. Between 2009 and 2010, he spent his Sabbatical Leave at the Nasarawa State University, Keffi, where he contributed immensely to set up the Department of Theatre and Cultural Studies.
It is in recognition of his numerous academic successes that the Council of Nnamdi Azikiwe University, promoted him to the rank of Professor with effect from 1st October, 2009. He is a proud recipient of Nigerian Institute of Public Relations' (NIPR) Professional Excellence Award (2013); Rotary Club of Awka, GRA, Vocational Service Award (2013); Rotaract Club of Awka, GRA, Professional Service Award (2012); Odinma Anambra North Youth Association's Excellence in Leadership Award (2013), among others. He delivered what has been critically adjudged an outstanding Inaugural Lecture in Nnamdi Azikiwe University, Awka, on the 12th of February, 2013.